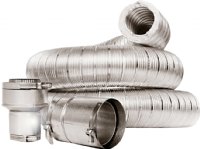 Flexible Gas-Vent Connector Systems
Insul-Vent® Double-Wall Insulated Vent Connectors
Insul-Vent® is a double-wall insulated vent connector, designed to make insulated connections between appliance and common vent (i.e. B-Vent, masonry chimney, or Z-Flex® chimney liner products), easy and economical. Simply cut to desired length and attach quick-connect nds. No drilling or screwing is required. Plus it eliminates costly elbows and accessories.

Single-Vent. Single-Wall Vent Connectors
Single-Vent is a single wall flexible vent connector. Single-Vent, like Insul-Vent®, is designed to make difficult installations easy and economical.

---